Every year since 2003 Caring Hands has sponsored a Community Christmas Dinner. The first year we hoped for 50 people and served over 100. The second year we hoped for 150 and served 200+ The next two dinners served over 500 each.
This dinner is not something Caring Hands does for the community. It is something the community does for itself. Everything is donated specifically for the dinner. Helpers come from all walks of life. So do guests. Last year someone complained that they couldn't tell the helpers from the people in need. One of the children - now on her 4th yr as a helper grinned and said "That's just the point"
sharing in the work and in the joy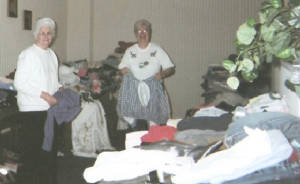 The community Christmas Dinner started in the hearts of Terry and Lafaye Murphy. At a time when most parents would have been worried about how they were going to do Christmas for their own 3 children the Murphy family decided to invite the whole town. They asked if Caring Hands would act as sponsor. We had some strong doubts but they said "We're both professional chefs. We don't have a lot of work right now. Here are the places that we've already talked to that will help" Something in their eyes and something in our hearts told us we couldn't say no. The agreement was that the dinner would be self supporting not using resources needed to help people through the winter months when heat bills and unemployment both go up almost unbelievably.
The newspaper published an article and people started calling. Many needed to come for help. Others wanted to come to help. One lady called crying asking if she could come and help. She said she had had so many tragedies that she didn't think she could live through another Christmas but if she could help that would change this. She was not in need financially, far from it, but she needed the dinner as much as anyone else.
The young man was clearly uncomfortable but he brought his family for the dinner and for the clothes and toys because it was all the Christmas he could give them. He "happened" to sit next to a man who had come by to help and didn't feel like he was really making a difference. They got talking and the man asked the dad what he did. He hung his head and said I used to be a good heat mechanic but the company closed and now I can't find a job. I had to sell my tools for food. The man asked a couple of questions about the systems he had worked on and then looked amazed. He did that kind of work too and his boss had been searching for a competent mechanic who knew those systems and would gladly furnish tools.
One thing she knew was that she didn't want anything to do with Jesus. But someone invited her to this birthday party and it was free and when you live in an unheated school bus that doesn't run you do not turn down free food and a chance to be warm for a few hours. By the time she realized it really was a birthday party for Jesus she had finished her second helping and was helping serve other people. Something happened that afternoon. The next day she went to church with the party people and gave her heart to that same Jesus. She didn't expect any big changes in her circumstances but someone gave her a better place to park the bus where she could have electricity and heat. A towing co cut it's price in half for us so we could help her get it moved. Things did not get all better overnight but changes started. She began talking to her family again. Her husband and grown son came to visit and the next time they came she went home with them.